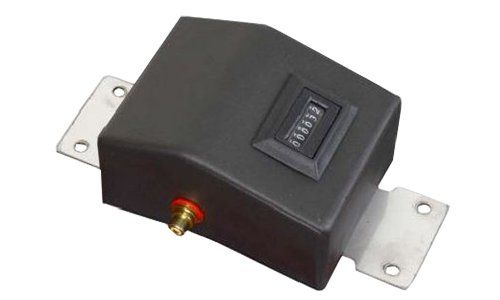 The Lightning Strike Counters is a functional device that shows the intact operation of the lightning system by counting the strikes of the lightning from air terminal and eliminators. This electro-mechanical counter has 6 digit displays.
This strike counter registers and records the number of strikes handled by a lightning down-conductor.
The striking counter accurately records all the lightning events that are later used for study and reference.
Consists of a standard counter with an optic fiber output

A remote monitoring device that mounts to DIN rail

The fiber cable uses simple push and screw-in terminals

The remote monitoring device provides an easily interfaced relay closure output

Unique in both operation and design, this lightning strike counter uses a 2-wire connection to any metal conductor for the detection of lightning
Advantages:
No external power supply needed for saving & counting lightning discharges.

The Lightning Strike Counter consists of capacitor and circuitry containing

It also has Electronic switching system connected to mechanical counting relay.

It possess a high frequency transformer.

Economical and easy to install.
Application:
The Lightning Strike Counter is used for the protection of valuable equipment and facilities from the lightning strikes. It also registers and records the lightning strikes. This information is further used for enhancing the lightning protection security and thus helps in increasing the effectiveness of inspection and maintenance procedures.