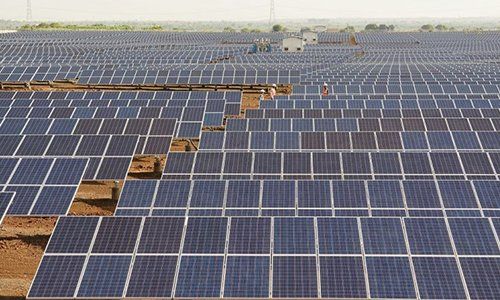 Arete Powertech is well known for Providing Services related to Solar Farming in India and Products for Solar Farms. In business, the decision to install Solar Farms is a strategic step to achieve a specific business requirement. Organizations need to spend lots of time, efforts & resources to establish and freeze the exact requirement of solar system that they would like to get installed. The statutory and local approvals, financing sources also need to be worked for Solar PV plant. Solar Farming Projects have gained momentum in recent years. Most important aspect is to be evaluated is Solar Farm profit per acre and Solar Farming in India scheme available to support the business case.
Arete Powertech is your right technology Indian Solar Farming Company with ranking amongst top 20 Solar Farming Companies in India. All our solutions are compliant with Solar Energy Corporation of India Ltd. (SECI) and MNRE guidelines. Undoubtedly, Arete Powertech is your best partner amongst Solar Farming Companies in India.
We at Arete understand the exact needs of our clients and their specific business enterprises. We suggest the best service so as to make it easy for you by managing the entire project pertaining to the Solar Farming Project. We have over one decade of experience in solar solutions domain such as engineering, designing, procurement, installation, commissioning, operations & maintenance management and financing.  We at Arete aim towards maintaining high quality standards & delivery organisation so as to offer optimized design and efficient solar energy system while keeping GO Green benefits.
Our EPC capabilities include:
Providing technology for the Solar Farming Project

Assistance in signing Power Purchase Agreements (PPAs)

Assistance in purchasing/ leasing land, permits, licenses, etc.

Getting statutory approvals and clearances

Assistance in organising finance for the projects

Complete O&M services after commissioning
The various stages of solar farming project at which the team at Arete will engage are:
Turnkey responsibility as an overall contractor.

Design responsibility as an engineering partner.

Facility operations management.

In various capacities.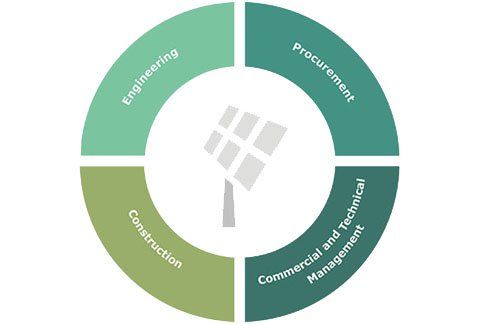 ENGINEERING – We develop Solar Farming Project with optimum PV output intended to accomplish the most cost-effective means of electricity supply for all our clients.
PROCUREMENT & PURCHASING – We maintain a professional and trustworthy network with top tier vendors in India & across the globe, and this enhances our capabilities with respect to procuring the best quality products for the best prices from the market.
PROJECT MANAGEMENT – We take care of every aspect starting from planning and installation and also monitor the performance of the Solar Farming Project to maintain the highest quality standards at all levels.
CONSTRUCTION – We take care of all the rules and regulations while planning and managing the processes pertaining to the construction stage and we undergo the various levels in quality checks to bring out the best output. Arete team also assist you to support you take care of the financial affairs particularly like funding on CAPEX / OPEX models.
COMMISSIONING – We go through a lot of commissioning tests so as to ensure that every Solar power plant that we install at our customers site is high on performance and designed to meet the exact requirement.
We have experience in the following areas of various industries.
Commercial retail space and large publicly and privately owned buildings

Government facilities and municipalities

Hospitals and healthcare centers

Schools and education institutions

Agricultural areas such as land and farms
Project Management
Customized Strategies. Customer Satisfaction
Arete Powertech has years of experience in customer requirement analysis of Solar Farms and this is why we are able to deliver the right solar energy solutions based on the individual needs of our clients. Our focus is to deliver high quality and high performance centric designs and systems that are durable and at the same time efficient and cost-effective.
Our project development and management services are delivered by the best of the industry experts on board. The Solar farming services include.
Energy Audit

System Design and Engineering Layout

Equipment Supply

Engineering and Technical Support

Obtaining statutory approvals

Financing Options (Private PPA's)

Submission of Subsidy documents (if applicable)
Financing
Each Solar systems needs to be worked basis multiple cost evaluation points depending on the client's requirements. Solar farming scheme and Finance may again be a concern for small and medium sized businesses. We at Arete help by giving guidance or references with respect to financial choices for our clients to help them in the best way to improve their business performance.
Customized Financing Needs
We have partnered with well-established financial entities so as to facilitate best financial choices for our clients that help them install solar energy systems for the best prices depend so as to facilitate best financial choices for our clients that help them install solar energy systems for the best prices. Our financing suite includes:
Private PPA's (OPEX Model)

Solar Lease

CAPEX Purchase
Our financing solutions are flexible and based our clients' requirements. You can contact us directly to familiarize more on Arete's financing solutions and how it can be of help your business switch to Solar.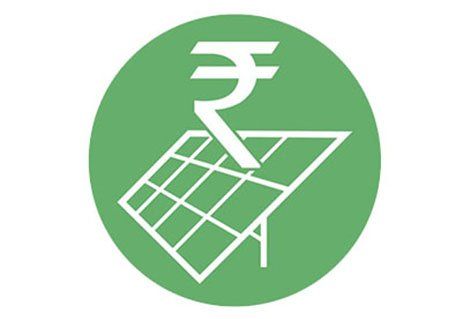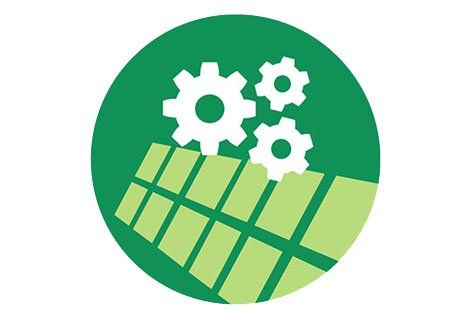 Operating And Maintenance Management (O&M)
Extended Performance Guarantee
The average life span of Solar PV plants is about 25 years. As the end of life span comes near, it diminishes the performance of most of the plants as wear and tear happens. This generally happens to the solar power plants which avoids periodic maintemance.  Arete Powertech comes with the solution of this as we know the requirements of every client. Our team provide the services with dedication and perfection by keeping in mind the maintenance aspect for Solar PV Plant. The services comprises of:
Flexible ongoing support and maintenance contract options

Routine visual inspections

Contractor management

System performance testing and energy monitoring

Emergency response

Energy audit reports

Preventive maintenance programs

System monitoring and verification

Operation and maintenance guaranties
Unmatched Excellence. Complete Customer Satisfaction
We at Arete Powertech strongly believe that our customer satisfaction is very important keeping in mind the focus on delivering high quality services that guarantee high performance. We aim to achieve Market Leadership by way of innovative ideas, cost effective solutions, maintenance management and eco-friendly quality products and services. We help towards making a contribution towards creating a positive and productive working environment with the best use of solar energy.
Capacity                                : 100 KW to 2 MW multiples of 100 KW

Type of Plant                        : Grid Tie, Off Grid

Warranty of Solar Panels   : 10 – 24 Years*, 25 Years*

Warranty of Components  : 5 Years*

Extended Warranty             :     Provided

Minimum Order Quantity  : 1 Set
Start Your Solar Journey. Calculate Your Savings Now.