Rooftop Solar Power Plants in India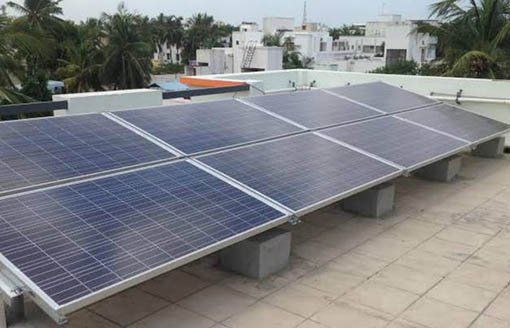 Solar Power is a smart way to reduce the power costs and also helps businesses produce their own power using Solar Energy. This not only helps in reducing external dependence but also is working towards green and clean environment.
We at Arete Powertech specialize in delivering Rooftop Solar Power Plants in India. Arete Rooftop Solar Power Plants start from capacity 5KWp and are available for range upto 100KWp that can be put to use for "Captive" purpose. The excess energy generated can also be exported back to the grid "Net- Metering" model.
The main aim of Arete Powertech is to provide the effective solar energy solution depending on the exact requirement of the Client's different businesses. Solar rooftop solutions are cost effective and have long life.
Team Arete can support you chalk down each point of Solar rooftop business model with the help of software known as Solar rooftop calculator for efficient Rooftop solar cost. Undoubtedly, Arete is leader in Rooftop Solar Power Plants in India towards cost effectiveness, system delivery, engineering, and reliability. We assure you the Best Rooftop Solar Power Plants. Our Engineers in the team are available now for free consultation on your one phone call. Arete Powertech committed solar panel for home price discovery for households/individuals.
Exclusive Solar Energy Benefits:
You get rid of dependence from external energy suppliers (Local Grid, Diesel Generator etc).

Combine different energy sources Grid, DG Set, Wind with your Solar Power Plant.

Tailor-made expandable modules system to give you flexibility for future up gradation.

Trust Arete's expertise to install a hassle-free Best Rooftop Solar Power Plants in your premises and achieve productive results.
Grid-Tied Systems
Produce electricity from solar energy and save big on external power buying charges
Arete Powertech team is highly proactive in engineering best suited and most effective solar power solutions. The Grid-Tie System is one among the most popular ones that we recommend to install. The unique feature is that this system is operative during the Solar Window time period that is 6AM to 6PM. This ensures system functioning throughout for enterprises. This helps you get rid off, dependency on the unpredictable local grid and diesel hungry costly generators. This also helps in creating an eco-friendly environment and serve mother nature.
Arete Rooftop Solar Power Plants solutions are tailor-made based on the existing power demand and recourses of the customers. We have the best team on board who take care of every technical detail with respect to the engineering, installation and commissioning process in the solar power plant. We design and suggest optimum size of solar solution so that 100% of power produced goes for "Captive" consumption. Thus leading to zero wastage and help gain maximum return on investment for you.
Arete Powertech Best Rooftop Solar Power Plants systems is smart enough to seamlessly integrate with the existing energy infrastructure (local grid, Diesel GenSet, other Hybrid Power plants), in order to expand the scope of the customer energy sources. During the bad weather, lower irradiance, cloudy, force majeure events, sometimes overall solar system are operating less than optimal capacity, then Arete intelligent Inverters shifts on starts taking energy from State EB and provide un-interrupted supply to run the Clients business units.
The aim of the Grid-Tie systems is not only power generation but this contributes towards removing the day time diesel usage & reduction of monthly electricity bills. The Grid-Tie system is extremely beneficial for business establishments like Industries, offices, commercial complexes, Educational Institutes, multiplexes, malls, hospitals and Banks where the power consumption is highly imperative during the day time.
Off-Grid Solar Systems
Ensures effective functionality of business all day all night
Arete's Off-Grid solar system is among one of Rooftop Solar Power Plants and are gaining a lot of demand now a days. It provides increased choices and flexibility resulting in increasing level of reliability of deployments. Off-Grid systems are most commonly used by customers whose business operations are highly active 24 x 7. A few application examples are homes, hospitals and hotels, manufacturing industries nursing homes, cold storages, resorts, and hatcheries etc. where uninterrupted power is a must.
Our Off-Grid PV Systems use a "battery bank" and considered as Best Rooftop Solar Power Plants, where solar power produced during the day can be stored for future usage during sunset hours. Solar System sizing are engineered and designed according to each customer needs. It is further customized depending on electrical load and back up requirements. Arete team analyses off grid solar system needs depending upon sizes and battery. Thus Off-Grid PV system scan be designed so as to operate either as a source of power back up during power cuts or as total off-grid systems whose power needs are solar dependent.
Arete's Off-Grid systems are synched with the existing grid/DG systems keeping the focus on the system produced solar power as the primary source of power. When there is inadequate or nil solar generation, power stored from the batteries is consumed and only after the batteries are fully discharged, does the Off-Grid system connect to the respective Grid/Diesel Genset sources.
Net-Metering
Optimum utilization of extra power
Net-Metering is one of the most interesting module in Arete's Solar System solutions. Net-Metering is the concept wherein difference between the excess energy (kWh) you have generated and fed into the grid with your solar PV system and the kWh's you have purchased from the Grid. Within the pre-defined PV system size and connection restriction, Net-Metering is allowed across 25+ Indian states and union territories for Rooftop Solar installations.
Rooftop Solar Power Plants in India can be helpful for those business establishments, which have very minimal power usage (compared to system size) during week-ends/holidays such as Schools & IT Companies etc. In the case when excess solar power generated during these recess times, the same is "Exported" to the grid and is offset against the regular monthly electricity bills.
Interested to know more?
You can Contact Us to know if your facility is eligible for net metering and for more information on various Net Metering scheme across India.
 Key Products Features for Best Rooftop Solar Power Plants in India
Grade A Solar Panels for high efficiency

Compliant to safety norms – IEC 62109-1&2 and IEC 62116

Inverter efficiency 97% +

Mobile Applet based remote power monitoring

Overvoltage and anti-islanding

Anti-shading mitigation features

Environment resistant for extreme weathers

Galvanized structures

Low maintenance cost

High reliability

Within warranty and post warranty support

Tailor made solution
Start Your Solar Journey. Calculate Your Savings Now.