EARTH ENHANCEMENT CHEMICAL
Arete GEM is an advanced Earth Enhancement Chemical or backfill compound, which lowers the contact resistance of the earth electrode to earth by over 70%. It produces low impedance to surges resulting in faster transient dissipation. Earthing compound is RoHS compliant and has excellent shelf life. Earthing Chemicals are non-toxic, non-explosive and non-corrosive. Arete GEM Earth Enhancement Chemical is fully compliant to IEC 62561-7 standards. It performs well in all soil conditions even during dry weather, does not depend on continuous presence of water, requires no maintenance and does not adversely affect soil or ground water. Earthing Chemical Compound is available in easily transportable 10/ 25 Kg. bags. Resistivity of chemical is less than 0.08 ohm-m. Earth resistance remains thermally stable over wide temperature variation range viz – 100 to + 600
Features of Earth enhancement Chemical: 
Absorbs and retains moisture for long time

Reduce soil resistivity

Dissipate fault current very fast

Doesnot need  salt and Charcoal around electrode

Maintain compatibility of soil and rod contact

No need of maintenance for longer time

Earth resistance remains same for longer time even large temperature variation.

Resistivity of chemical is less than 0.08 ohm-m
Earthing Pit Cover or Earthing Chamber Cover
Arete Provides easy to service and manage FRP Earthing Pit covers.Perfectly built at manufacturing end by the use of quantitative technologies and raw material these are highly sturdy in nature. Our pit covers are available in different size to and shape. Our products are eco-friendly and do not harm the place the applied place. We provide all our Heavy Duty Earth Pit Cover PPC in market with premium quality and ensured performance.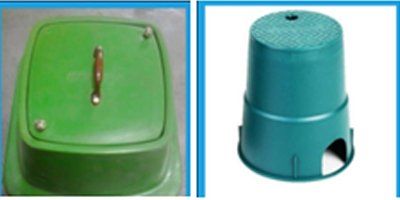 Dimensions:
At Top :- 7 inches (178 mm)

Height :- 13 inches (330 mm)
Main Features:
Factory- built long holes for accessing pipes easily at site

Made of heavy – duty polyethylene for extra durability

Resistant materials, assuring long use-life

Green top cap matches the environment